Madhya Pradesh Travel Guide – Golden Triangle Holiday
Madhya Pradesh is an Indian state with an intoxicating mixture of holy shrines, inspiring art, vibrant sights and rich history. It is adorned with famous tourist attractions, wildlife sanctuaries, tribal culture and natural beauty. Madhya Pradesh is India's cultural and political heartbeat having temples and tribal population. This exotic place is also the abode of the two jyotirlingas, India's most well-known pilgrimages. From the past few years, Madhya Pradesh has become a flourishing hub of adventure sports that lives to expectations of the tourists coming from different parts of the world. You must visit Madhya Pradesh to see waterfalls, Lakes, Temples, Tiger Reserves, Wildlife Sanctuaries, and palaces.
Best Places to visit in Madhya Pradesh to plan your vacation
Madhya Pradesh is known for some amazing cities like Orchha, Khajuraho, Ujjain, Gwalior, Indore and many others.  You will explore picturesque beauty of Pachmarhi, spiritual temples of Omkareshwar, abandoned ruins of Orchha, exquisite wildlife, erotic sculptures of Khajuraho temples and much more.  All these tourist attractions make Madhya Pradesh a perfect spot for travel and tourism. "Golden Triangle Holiday" is offering this Madhya Pradesh Travel Guide to make sure you do not miss to visit all the famous tourist attractions.  
Famous Tourist attractions in Madhya Pradesh are:-
Khajuraho is a historical town that is considered as one of the most famous tourist destinations that attracts tourists from different parts of the world. It symbolizes the medieval heritage of India and comprised of Jain and Hindu temples. There are more than 22 temples that display the artistic excellence of India.
Orchha is a wonderful town located on the banks of Betwa River and famous for its ancient temples, historical monuments and picturesque landscape. The natural beauty of this place makes it a nature lovers' paradise and photographer's delight. You can explore Orchha to escape from the day to day hectic life and enjoy the pleasant atmosphere.
9 Nights / 10 Days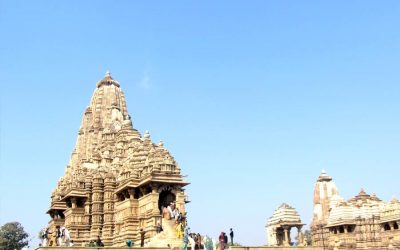 19 Nights / 20 Days