City Explored: Kumbhalgarh, Ranakpur
Days of Run:
Sun, Mon, Tue, Wed, Thu, Fri, Sat
Duration of the Tour:
09:00 hrs to 17:30 hrs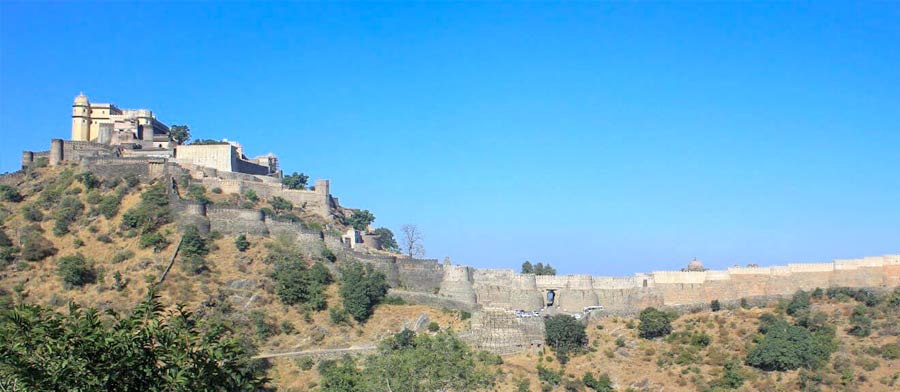 Tour Schedule
09:00 AM – Pickup from your desired location/hotel (Udaipur)
11:00 AM – Visit Kumbhalgarh Fort
13:00 PM – Lunch
14:30 PM – Visit Ranakpur
15:30 PM – Drive towards Udaipur
17:30 PM – Drop at your desired location/hotel
Major Tourist Attractions / Tourist Places in Kumbhalgarh Ranakpur Day Tour
09:00 hrs. – Start Tour
Drive to Udaipur – Kumbhalgarh
Our company representative will pick you from your desired location in an air-conditioned to leave for a full day tour of Kumbhalgarh and Ranakpur.
11:00 hrs. – Kumbhalgarh Fort
Sightseeing Kumbhalgarh Fort
Kumbhalgarh Fort
This massive fortress is a world heritage site and was constructed during the course of 15th century by Rana Kumbha. This massive fort is built on the Aravalli Hills and has 38 km lone wall which is the second largest wall in the world after the "Great Wall of China". Inside this fort, there are more than 360 temples of which 300 are Jain and others are Hindu.
13:00 hrs. – Drive to Ranakpur
Drive to Kumbhalgarh – Ranakpur
Lunch
After visiting this astonishing fort, you will leave for Ranakpur. On the way, you will have your lunch at the desired location.
14:30 hrs. – Ranakpur
15:30 hrs. – Drive Back
Drive to Ranakpur – Udaipur
After visiting this temple, our company representative will transfer you to the air-conditioned and drive towards Udaipur.
17:30 hrs. – Tour Ends
On arrival at Udaipur, you will be dropped at your hotel.