Languages:
Hindi, English, Rajasthani
Best Time to Visit:
October-June
Temperature:
Summer (32°C to 49°C) & Winter (2°C to 30°C)
Seasons: Summer (March-June), Winter (October-February), Monsoon (July-September)
Climate: Tropical
Nearest Railway: Sawai Madhopur
Nearest Airport: Jaipur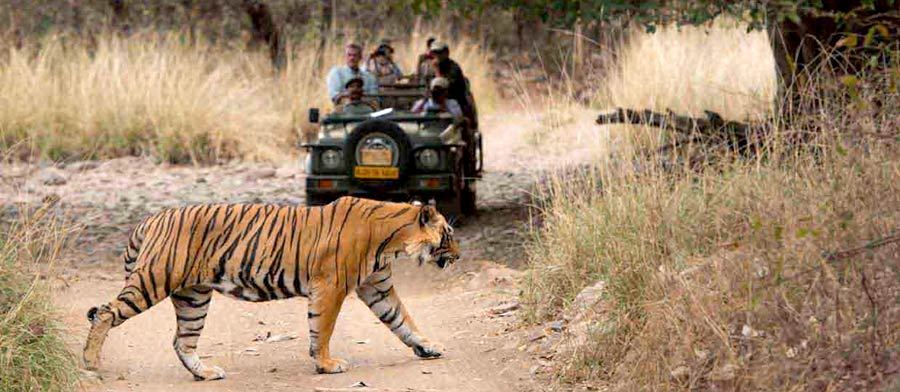 Ranthambore National Park is located in the district of Sawai Madhopur and regarded as one of the most famous national parks all across the globe. This national park has beautiful ravines, ponds, rocky smudges, lakes, and picturesque hills. Most of the tourists visit this reserve to enjoy tiger sighting and lush green beauty of the nature. "Golden Triangle Holiday" is offering this Ranthambore Travel Guide to make sure you enjoy your vacation to the fullest.
Major Tourist Attractions / Tourist Places in Ranthambore
Ranthambore Fort
Ranthambore National Park
How To Reach
| | |
| --- | --- |
| By Air | The nearest airport to Ranthambore is located in Jodhpur. It is considered as the best option to reach Bikaner and you can hire a car from Jodhpur to reach this city and explore the major places of interest. |
| By Rail | The nearest railway station to Ranthambore is Sawai Madhopur, which is well connected with all the major cities like Jaipur, Udaipur, Jodhpur and many others. After reaching Sawai Madhopur by train, you can hire a car to explore Ranthambore. |
| By Road | Ranthambore is well-connected by road with all the major Indian cities like Udaipur, Jaipur, Jodhpur and many others. It also has very good bus connectivity and you can hire a car after reaching this city to explore the major tourist attractions. |
Interested in tiger sighting at Ranthambore? Book our excellent Golden Triangle Tours