Languages:
Hindi, English and Rajasthani
Best Time to Visit:
September to April
Temperature:
Summer : (25°C to 45°C) & Winter (8°C to 22°C)
Seasons: Summer (March-June), Winter (November-February), Monsoon (July-September)
Climate: Moderate
Nearest Railway: Ajmer
Nearest Airport: Jaipur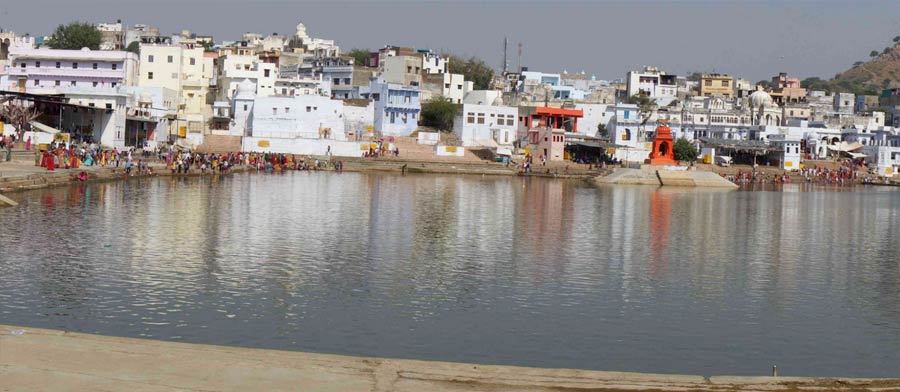 One of the religious places in India – Pushkar is located in Rajasthan and highly renowned for temples, Ghats and Pushkar Lake. The convergence of nature's diversity, spirituality and epitome of divinity can be readily seen in Pushkar. It is also among one of the most visited pilgrimage places in India and surrounded by hills on the three sides. "Golden Triangle Holiday" is offering this Pushkar Travel Guide to help you in planning a trip to this holy town without any kind of difficulty.
Major Tourist Attractions / Tourist Places in Pushkar
Pushkar Lake
Brahma Temple
Ghats
Pushkar Fair
How To Reach
| | |
| --- | --- |
| By Air | The nearest airport to Pushkar is located in Jaipur. It is considered as the best option to reach Pushkar and you can hire a car after reaching this city to explore the major places of interest. |
| By Rail | The nearest railway station to Pushkar is Ajmer, which is well connected with all the major cities like Jaipur, Udaipur, Jodhpur and many others. After reaching Ajmer by train, you can hire a car to explore places in and around Pushkar. |
| By Road | Pushkar is well-connected by road with all the major Indian cities like Udaipur, Jaipur, Jaisalmer and many others. It has very good bus connectivity and you can hire a car after reaching this city to explore the major tourist attractions. |
Interested in Pushkar sightseeing? Book our extraordinary Rajasthan Tour Packages