Languages:
Hindi, English and Rajasthani
Best Time to Visit:
September to April
Temperature:
Summer (36°C to 46°C) & Winter (10°C to 24°C)
Seasons: Summer (March-June), Winter (October-February), Monsoon (July-September)
Climate: Extreme
Nearest Railway: Jodhpur
Nearest Airport: Jodhpur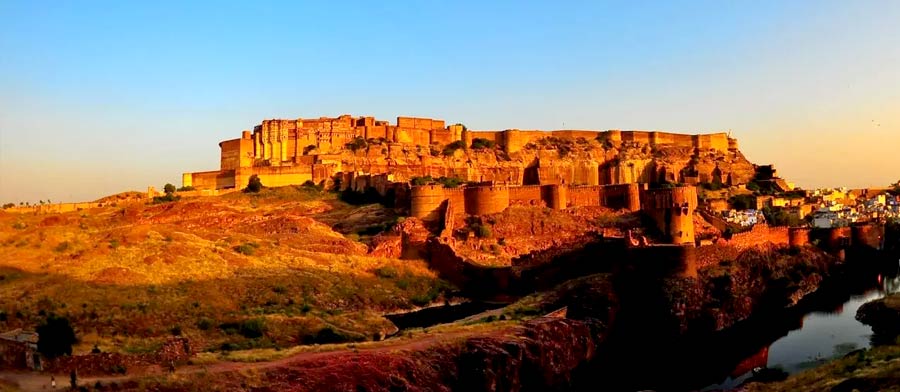 Also known as "Sun City" – Jodhpur was founded by Rao Jodha (the chief of the Rathore clan) in the year 1459. This city actually derived its name from the founder ruler itself. It served as capital for many places and later divided into the old city and the new city. The landscape of this city is mesmerizing and scenic. All the tourists coming here can enjoy stunning sights, traditional songs, folk dances and amazing palaces. Even the bazaars of Jodhpur are known for carpets, antiques, lacquer-ware, embroidered leather shoes and tie & dye textiles. So, "Golden Triangle Holiday" is offering this Jodhpur Travel Guide to see some wonderful tourist attractions without any kind of difficulty.
Major Tourist Attractions / Tourist Places in Jodhpur
Mehrangarh Fort
It is one of the largest forts in India and located on a steep hill that gives panoramic view of the whole Jodhpur city. The foundation of this grand fort was laid by a Rathore ruler – Rao Jodha in 1459. It also houses a big museum that showcases big collection of folk musical instruments, paintings, cannons, furniture and palanquins.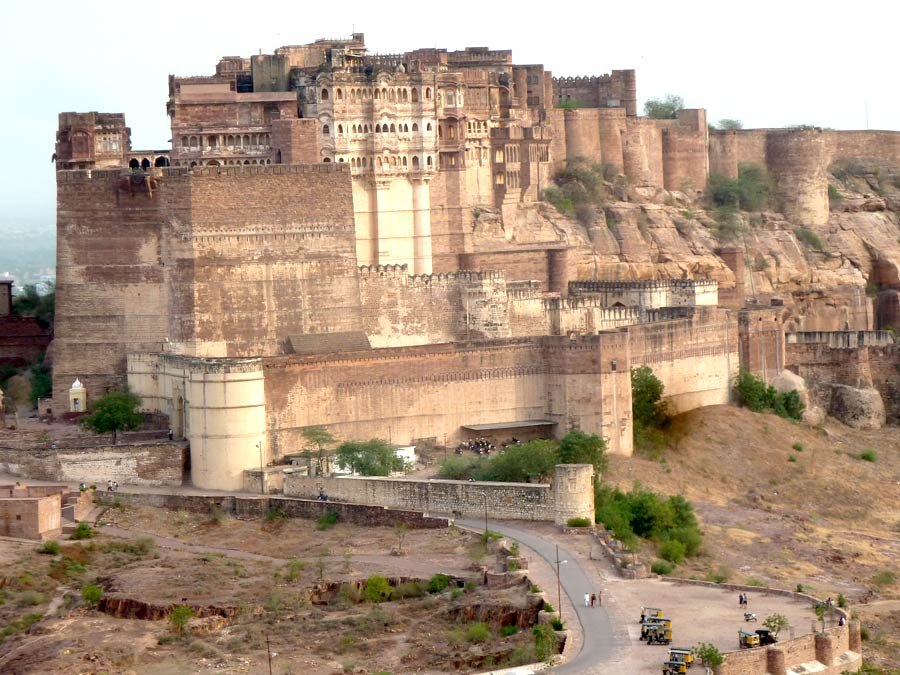 Umaid Bhawan Palace
Jaswant Thada
How To Reach
| | |
| --- | --- |
| By Air | Jodhpur has its own airport and well-connected through major Indian cities like Jaipur, Delhi, Udaipur and many others. It is considered as the best option to reach Jodhpur and you can hire a car after reaching this city to explore the major places of interest. |
| By Rail | Jodhpur is its own railway station and well connected with all the major cities like Mumbai, Delhi, Jaipur and many others. After reaching Jodhpur by train, you can hire a car to explore major things to see. |
| By Road | Jodhpur is well-connected by road with all the major Indian cities like Udaipur, Jaipur, Jaisalmer and many others. It has very good bus connectivity and you can hire a car after reaching this city to explore the major tourist attractions. |
Interested in Jodhpur sightseeing? Book our best Rajasthan Tours