Languages:
Hindi, English and Rajasthani
Best Time to Visit:
September to April
Temperature:
Summer (25°C to 44°C) & Winter (5°C to 24°C)
Seasons: Summer (March-June), Winter (October-February), Monsoon (July-September)
Climate: Tropical
Nearest Railway: Jaisalmer
Nearest Airport: Jodhpur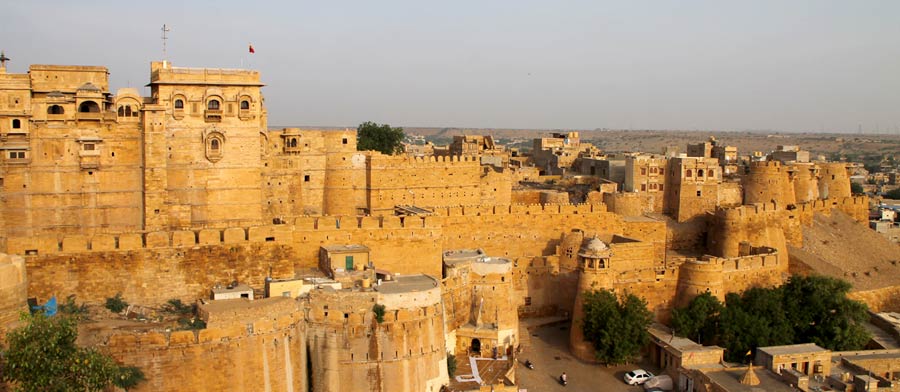 Jaisalmer was founded in 1156 by Rawal Jaisal Singh and prominently called as "The Golden City". It is located at the edge of Thar Desert & well-known all across the globe for its sand dunes, temples, palaces and forts. One of the must do activities in Jaisalmer is camel safari and enjoying bon-fire activities in the sand dunes. Golden Triangle Holiday is offering this Jaisalmer Travel Guide to make your trip to this city comfortable and pleasing.
Major Tourist Attractions / Tourist Places in Jaisalmer
Jaisalmer Fort
Gadsisar Lake
Sam Sand Dunes
How To Reach
| | |
| --- | --- |
| By Air | The nearest airport to Jaisalmer is located in Jodhpur and well-connected through major Indian cities like Jaipur, Delhi, Ahmedabad and many others. It is considered as the best option to reach Jaisalmer and you can hire a car after reaching this city to explore the major tourist attractions. |
| By Rail | Jaisalmer is its own railway station and well connected with all the major cities like Ahmedabad, Mumbai, Delhi, Jaipur and many others. After reaching Jaisalmer by train, you can hire a car to explore major tourist attractions. |
| By Road | Jaisalmer is well-connected by road with all the major Indian cities like Ahmedabad, Jaipur, Delhi and many others. This city has very good bus connectivity and you can hire a car after reaching this city to explore the major tourist attractions. |
Interested in Jaisalmer sightseeing? Book our excellent Rural India Tours