Languages:
Hindi, English and Urdu
Best Time to Visit:
September to April
Temperature:
Summer : (25°C to 46°C) & Winter (2°C to 25°C)
Seasons: Summer (April-June), Winter (November-March), Monsoon (July-September)
Climate: Semiarid
Nearest Railway: Fatehpur Sikri
Nearest Airport: Delhi
Fatehpur Sikri is located 35 km away from Agra and was constructed by Mughal emperor Akbar to build a capital for his big empire. It remained capital of Mughal Empire from 1571 to 1585. It is made up of red Sikri sandstone and has buildings displaying Hindu and Islamic architectural style. The whole city is decorated with interlaced designs and ornamental carvings. It was later abandoned by Mughal emperor Akbar due to shortage of water. "Golden Triangle Holiday" is offering this Fatehpur Sikri Travel guide to give a clear idea about places to visit in this Mughal capital city.
Major Tourist Attractions / Tourist Places in Fatehpur Sikri
Buland Darwaza
This big gate was constructed by Emperor Akbar in 1601 to commemorate his victory over Gujarat. The craftsmanship and architecture of this door is brilliant as well as unique. On the main gateways an inscription in Persian reads 'Jesus son of Mary said, "The world is a bridge pass over it, but build no houses upon it. He, who hopes for a day, may hope for eternity; but the World endures but an hour. Spend it in prayer for the rest is unseen"'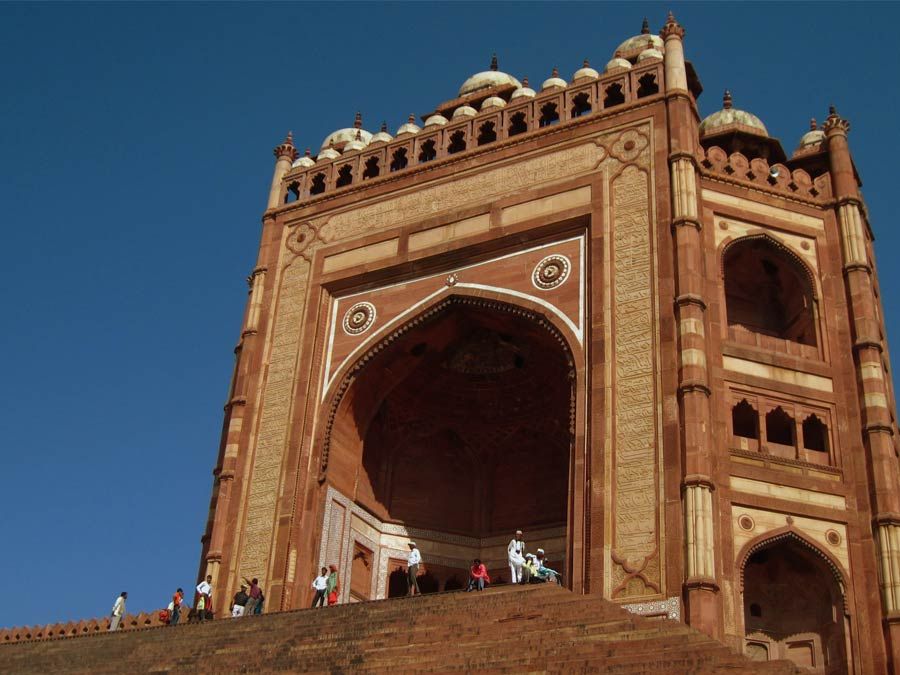 Diwan-I-Khas
Panch Mahal
How To Reach
| | |
| --- | --- |
| By Air | The nearest airport to Fatehpur Sikri is located in Delhi. It is considered as the best option to reach Fatehpur Sikri, as you can hire a car from Delhi to reach this city and explore the major places of interest. |
| By Rail | Fatehpur Sikri has its own railway station, which is well connected with all the major cities like Delhi, Agra, Gwalior and many others. After reaching Fatehpur Sikri by train, you can hire a car to explore places in and around this Mughal city. |
| By Road | Fatehpur Sikri is well-connected by road with all the major Indian cities like Delhi, Jhansi, Agra and many others. It also has very good bus connectivity and you can hire a car after reaching this city to explore the major tourist attractions. |
Interested in Fatehpur Sikri sightseeing? Book our excellent Rajasthan Tours