Languages:
Hindi, English and Rajasthani
Best Time to Visit:
September to April
Temperature:
Summer : (28°C to 46°C) & Winter (4°C to 23°C)
Seasons: Summer (March-June), Winter (November-February), Monsoon (July-September)
Climate: Extreme
Nearest Railway: Bikaner
Nearest Airport: Jodhpur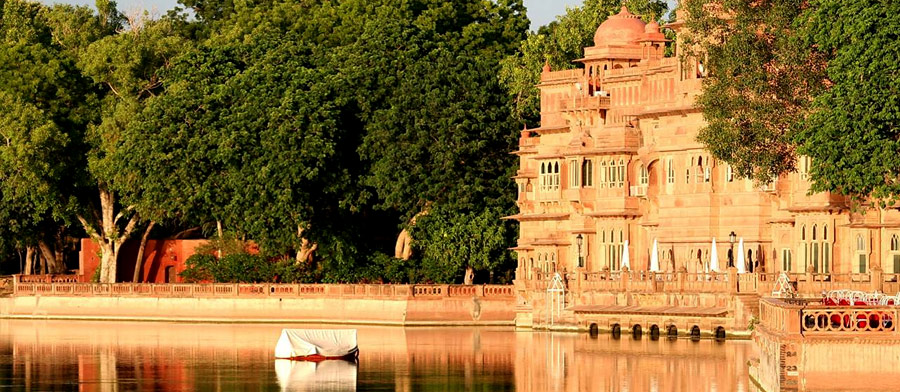 Bikaner is popularly known as "Camel country", as it is regarded as the best place to enjoy camel riding all across the globe. It was founded by Prince Rao Bikaji in the year 1465 and stands on a somewhat raised ground. It is encircled by a seven km long wall with 5 gates. All the tourists coming here from different parts of the world explore magnificent palaces & forts, enjoy camel safari and eat different types of sweets. Bikaner is also famous for it's "Usta art", which is illustrated by miniature paintings & gold embossing done on ivory, glass wares, marble and walls. "Golden Triangle Holiday" is offering this Bikaner Travel Guide to help you in planning a trip to this holy town without any kind of difficulty.
Major Tourist Attractions / Tourist Places in Bikaner
Junagarh Fort
Karni Mata Temple
Gajner Palace
How To Reach
| | |
| --- | --- |
| By Air | The nearest airport to Bikaner is located in Jodhpur. It is considered as the best option to reach Bikaner and you can hire a car from Jodhpur to reach this city and explore the major places of interest. |
| By Rail | Bikaner has its own railway station, which is well connected with all the major cities like Jaipur, Udaipur, Jodhpur and many others. After reaching Ajmer by train, you can hire a car to explore places in and around Bikaner. |
| By Road | Bikaner is well-connected by road with all the major Indian cities like Udaipur, Jaipur, Jodhpur and many others. It also has very good bus connectivity and you can hire a car after reaching this city to explore the major tourist attractions. |
Interested in Bikaner sightseeing? Book our custom-made Rural India Tours