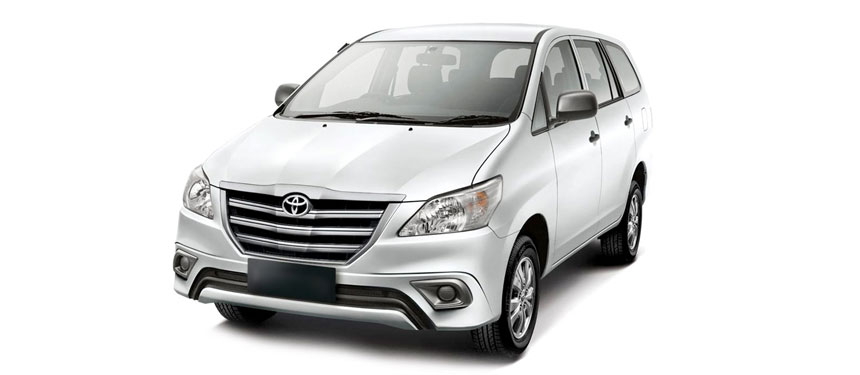 Additional Features
Fog Lamps:
FM / Music System:
Hill Hold Control:
Vehicle Stability Control:
GPS Navigation System:
Detailed Information
Toyota Innova car hire India – Golden Triangle Holiday
Toyota Innova is a multi utility vehicle (MUV) well-known for high performance on all kinds of Indian roads. The exteriors & interiors of this car are very stylish and designed to offer comfort during the time of travel. There are many unique features like air-conditioning, power steering, airbags, leather upholstery, comfortable seats with belts, power windows, central locking system, CD/DVD player, tachometer, multi information display and much more. This car is perfect for rugged terrains and long distance travel in India. Many car rental companies in India are offering Toyota Innova car hire services to tourists based on their requirements.
Toyota Innova car rental for India Tours
Are you planning a small group tour with your family or friends in India? Book online Toyota Innova car rental service from "Golden Triangle Holiday" and enjoy the wonderful ride at most competitive price. Our customers book this MUV car for India Tours, corporate trips, wedding events, airport and railway transfers. We have a very big fleet of well-maintained Toyota Innova cars that can be booked online on rent with highly experienced drivers. In case you are confused about which SUV MUV car to choose for your tour in India, then our travel experts will help you in this regard. You can also read our customer reviews and testimonials to get a detailed idea about our customer service. For more information about Toyota Innova car hire in India, you can get in touch with our travel experts through phone call or email.