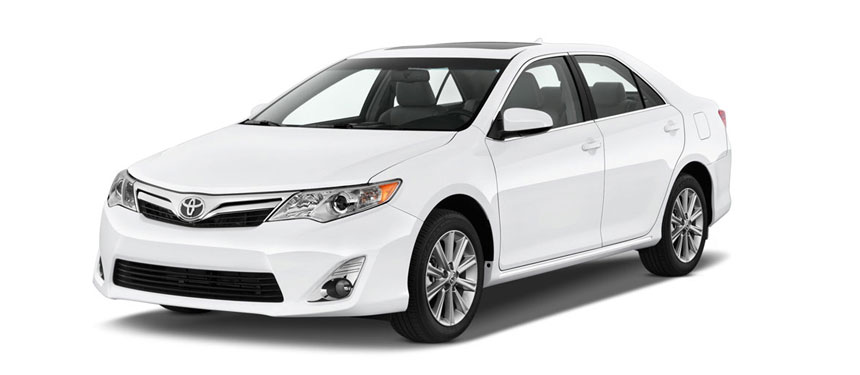 Additional Features
Fog Lamps:
FM / Music System:
Hill Hold Control:
Vehicle Stability Control:
GPS Navigation System:
Detailed Information
Toyota Camry car hire in India – Golden Triangle Holiday
Toyota Camry is a luxury sedan car having high reputation for quality and value. The eye-catching front, classy interior, fuel economy, stylish exterior, powerful engine and many other characteristics make it a notable luxury car. All the domestic or international tourists seeking a comfortable ride always hire Toyota Camry car online in India. This car gives most enjoyable and redefined the travel experience to all the tourists while exploring major tourist attractions in India. The main features of this car are dual airbags, air-conditioning, central locking system, child safety locks, power steering and much more. The design of this car gives the maximum amount of comfort even in longer journeys.
Toyota Camry car rental for India Tours
Since inception, Golden Triangle Holiday has offered Toyota Camry car hire services to foreign and domestic tourists in India. We have a very large fleet of luxury cars to accommodate the requirement of each and every customer. You can book online Toyota Camry car rental service for wedding events, corporate trips, India tours, railway and airport transfers. Many rental companies are offering this car for rental purpose, but you must always choose it from Golden Triangle Holiday at reasonable price. We have also added many new features like GPS and fire extinguishers to increase the safety of the travelers. You can hire a car and driver from us to make sure you enjoy a hassle-free ride with your family members or friends. Just tell us your requirement, our travel experts will make sure you get the required luxury car at your desired location. To know more about Toyota Camry car hire service in India, you can contact our highly qualified travel experts through email or phone call.