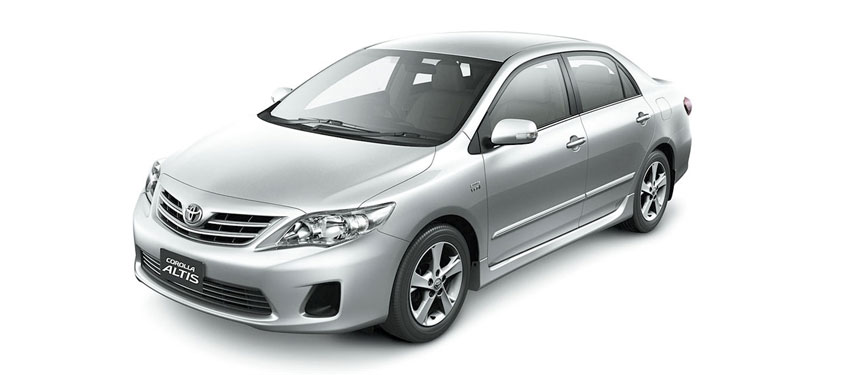 Toyota Altis is a wonderful choice when it comes to long or short route journeys. This car has sophisticated interiors and well-crafted exterior, which makes it a top choice for rental service in India. With ABS braking technology, superb suspension system and powerful engine, Toyota Altis can certainly offer you a secure and comfortable ride.
Additional Features
Fog Lamps:
FM / Music System:
Hill Hold Control:
Vehicle Stability Control:
GPS Navigation System:
Detailed Information
Toyota Altis car rental from Golden Triangle Holiday
Toyota Altis is a luxury car with upgraded mechanics, refined modern aesthetics and powerful engine that gives a brilliant performance on Indian roads. The interior is more trendy, comfortable and appealing to every traveller in this car. The unique features of this sedan are central locking system, dual airbags, air-conditioning, power windows, power steering, comfortable seats, anti-lock braking system, alloy wheels, Remote Trunk Opener, CD/DVD Player and many others. Due to all these characteristics, Toyota Altis is one of the most hired cars in India for tours and sightseeing. Most of the tourists exploring places of India choose this car for luxury, safety and comfortable ride.
Toyota Altis car hire for India Tours
"Golden Triangle Holiday" has become the most preferred luxury car rental company for international as well as domestic tourists. We have a very large fleet of well-maintained Toyota Altis cars available with highly experienced drivers. You can book online Toyota Altis car rental service for India tours, corporate trips, wedding events, railway and airport transfers. You can hire a car and driver to enjoy a safe and hassle-free journey in India. Also go through our customer testimonials to know more about the quality of service offered by us. You can also compare our rates with our competitors to ascertain the service quality. Our experienced drivers will act like a guide during the trip and will offer all the necessary guidance to have a safe journey. To know more about Toyota Altis car hire service in India, you can contact our highly qualified travel experts through email or phone call.