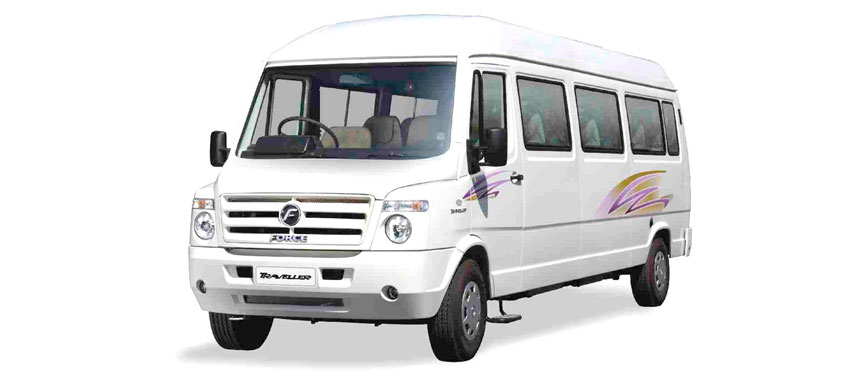 Additional Features
Fog Lamps:
FM / Music System:
Hill Hold Control:
Vehicle Stability Control:
GPS Navigation System:
Detailed Information
Tempo Traveller hire in India from Golden Triangle Tour
Tempo Traveller is one of the most hired coaches in India and ideal for group tours. It is not only well-known for comfortable space, but also gives superior performance on Indian roads. It has been designed keeping in mind the requirement of the travellers coming to India from different parts of the world every year. The unique features of Tempo Traveller are comfy seats, ample leg space, air-conditioning, adequate space for luggage, CD player and many others. It is an ideal choice for long journey tours in India and available in 10, 12, 14 and 16 seater. Many companies in India are offering this coach on rental basis for short or long distance tours. You can always choose the company that offers Tempo Traveller hire service at a reasonable rate and that suits your budget.
Tempo Traveller rental service for Group Tours
Are you coming to India for vacation or business trip with a small group? Choose Tempo Traveller hire service from "Golden Triangle Holiday" for corporate trips, wedding events, India Tours, sightseeing tours, airport and railway transfers. We have a very big fleet of well maintained of Tempo Traveller that is available with highly experienced drivers. Our travel experts will listen to your requirement for a coach and suggest an ideal 10, 12, 14 or 16 seater Tempo Traveller. For more information about our Tempo Traveller rental service in India, you can get in touch with our customer support team through email or phone call.